Having hit the half-century mark, I look at all the things
that lie before me, waiting to be discovered and achieved.
Here are some I look forward to...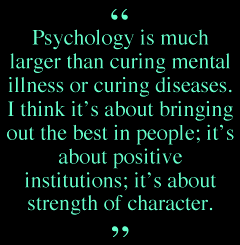 Quote: Dr. Paul Seligman
I look toward "retirement" as a transition
from teaching to practicing psychology.
In any real sense, I've been counseling
for over 30 years. When I complete
my certification in June, I will start
building a professional practice,
probably leaving education
within five or six years.
The San Francisco State certificate
emphasizes Positive Psychology, as
exemplified in the quote on the left.
When the time comes to get serious about doing some writing, I have a couple of projects waiting to happen: one is a play and a the other is a fictionalized memoir.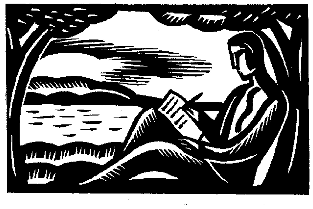 I've had this play in mind ever since I
had breakfast in a Colorado greasy
spoon and heard a tough old broad
describe herself as "the last truly
professional waitress they got
around here." I think I'll place the
cafe near Yucca Mountain, Nevada
-- which Bush has just named the
National Atomic Waste Dump.
20 years ago, I ran into a friend from the old days
who said, "Every time I walk past a bookstore,
I check to see if your book is in the window."
Someday she'll see it, and it will look a lot like this.
Maybe she'll stop and read a few pages,
and wonder if she was the girl on page 56.
... but re-reading some of Lynda Barry's recent works
suggests that the form she calls autobifictionography
may be the right style for me, and that my story might
best be told without the petty restraints of mere facts.
I've never directed my favorite play.
Who's Afraid of Virginia Woolf?
Someday I will... and maybe I'll
play "George" while I'm at it.
I will continue to work against
racism, homophobia and
other forms of social injustice,
providing school districts
with educational training.
Perhaps we will bring about a profound change in
what it means to be an American in the 21st Century.
Click on the FLAG to begin a Citizen's Education