Favorite Movie: Today
Billy Elliot
Pure, inspiring but never corny.
A heartfelt and beautiful film.
If I could have seen it when I was 14,
my life would have been changed.
Billy's courage in being "different"
and his dedication to the direction
of his heart make him a true hero.
Though Billy is not explicitly gay,
this is the best movie ever made
about growing up queer.
Favorite Actress:
the Grandest Dame
Maggie Smith
Only Maggie Smith combines
Bette Davis's visceral, epic style
and Streep's luminous artistry.
Watch The Lonely Passion of
Judith Hern to see the finest
dramatic performance ever
filmed. Then watch her in
California Suite to discover
that she's funnier than any of
the great comediennes. She
is the greatest. The Greatest.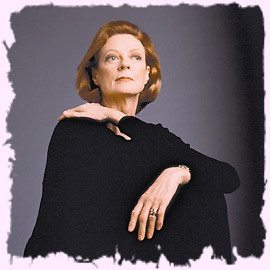 MUSICAL: Today
RAGTIME
I'm no fan of those big, dumb-ass
theme-park musical epics,
but Doctorow's classic novel, the
heroic character of Coalhouse Walker,
and the passionate score transcend
that genre. I loved it in LA, again in San
Francisco, and twice in New York.
And LaChanze kicked Audra's ASS.
Favorite
FORCE
JUDY HENSKE kicked around
the folk music scene back in the
early 60's and made a reputation
for her ass-kicking style --
whether it was traditional folk,
wild humor or soulful torch.
She came back a couple of years
ago with the best damn CD I've
heard in years. If you've never
heard Henske sing "Til the Real
Thing Comes Along," you ain't
heard shit. GO TO HER WEBSITE
AND BUY THIS CD. DO IT NOW !